PRESS RELEASES
September 29, 2023 / VIEW
September 25, 2023 / VIEW
August 25, 2023 / VIEW
August 10, 2023 / VIEW
June 30, 2023 / VIEW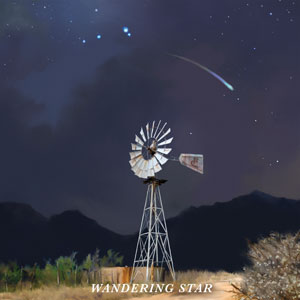 album artwork / click for hi-res version


photo credit: Fernando Garcia / click for hi-res version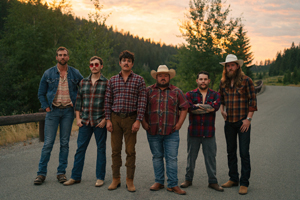 photo credit: Fernando Garcia / click for hi-res version


photo credit: Fernando Garcia / click for hi-res version


photo credit: Fernando Garcia / click for hi-res version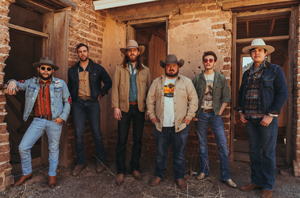 photo credit: Fernando Garcia / click for hi-res version


photo credit: Fernando Garcia / click for hi-res version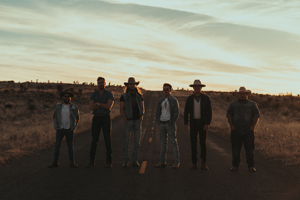 photo credit: Fernando Garcia / click for hi-res version


photo credit: Fernando Garcia / click for hi-res version



FLATLAND CAVALRY'S NEW ALBUM
WANDERING STAR OUT OCTOBER 27 VIA INTERSCOPE RECORDS

NEW SONG "MORNINGS WITH YOU" FEAT. KAITLIN BUTTS DEBUTS TODAY

HEADLINE TOUR CONFIRMED INCLUDING SHOWS AT NEW YORK'S IRVING PLAZA, NASHVILLE'S RYMAN AUDITORIUM AND MORE
September 29, 2023—Flatland Cavalry will release their anticipated new album, Wandering Star, October 27 via Interscope Records—their first release in partnership with the label (pre-order/pre-save here).

Ahead of the release, the new song, "Mornings With You," featuring Kaitlin Butts, is debuting today. Written by lead singer Cleto Cordero, Ashley Monroe and Nick Walsh, the song can be heard HERE. In celebration of the track, the band recently partnered with the Texas-based Merit Coffee for a special "Mornings With You" blend—full details here.

Of the song, Cordero reflects,

"Last June, I got to write with a couple great songwriters in town, Ashley Monroe and Nick Walsh. The three of us got along effortlessly—I think our collective experiences with the strenuous journey that is dream-chasing and being highwaymen (and women) lent towards us writing a song that is the antithes is of the hustle and bustle of living the Night Life; a song about the beauty of cherishing the start of a new day, basking in the peace and stillness, with the one you love most.

The song came to life in the studio, expanding its energy and emotion, as the band added their signature touch. It is the great honor and privilege of my life to get to wake up next to my wife, Kaitlin Butts, so including her voice on the song added an element that makes for a truly beautiful and powerful recording. Like the rising sun bursting from the dark horizon, she and our bass player's wife, Sydney Saenz, crafted a luminous angel choir outro that takes the song to heavenly places and makes for one of my favorites records we've ever made."

Produced by Dwight A. Baker (Josh Abbott Band, Pat Green), Wandering Star is a collection of country anthems and thoughtful ballads that further elevate the band's signature musicianship and vivid storytelling. Across these thirteen tracks, including previously released songs "Last American Summer" and "Oughta See You (The Way I Do)," Flatland Cavalry reflect on authentic day-to-day experiences, while celebrating the simple joys of life.

Already receiving critical attention, Brooklyn Vegan calls "Oughta See You (The Way I Do)" a "propulsive new single," while Whiskey Riff praises, "heartfelt lyricism, catchy melodies, and sonically impressive instrumentation" and Holler declares, "one of the brightest Texas country-folk bands…they worked their usual musical magic."

Reflecting on the project, Cordero shares, "Historically, all our albums have been named after a lyric that seems to most encapsulate the spirit and ethos of the project. Late one evening from my office in Nashville came the inspiration to name this record. My wife, who is from Oklahoma, acquired a piece of embroidered folk art which hangs on the wall of my office of a native man posed with Eagle wings. The art piece is untitled, but I imagined the subject being named 'Dancing Eagle.' Then I imagined 'what would be my name if it were given to me in the same spirit?'… and the two words 'Wandering Star' floated to the surface; which happens to be a lyric in 'Spinnin'.' Naming our fourth LP Wandering Star felt right as we have been wandering around all of creation the last ten years, truth-seeking and dream-chasing; aiming for the moon and at last it seems we've found ourselves finally floating amongst the stars."

In celebration of the new music, Flatland Cavalry will continue to tour through this winter including headline shows at Austin's Moody Theater, Fort Worth's Billy Bob's (two nights), Tucson's Rialto Theatre, Athens' Georgia Theatre (two nights), Nashville's historic Ryman Auditorium and New York's Irving Plaza among many others. They will also join Parker McCollum for select dates this fall. See below for complete tour itinerary.

Based in both Texas and Nashville, Flatland Cavalry is Cordero (vocals, acoustic guitar), Jason Albers (drums, percussion), Jonathan Saenz (bass, background vocals), Reid Dillon (electric guitar), Wesley Hall (fiddle) and Adam Gallegos (piano, organ, keys, mandolin, banjo, acoustic guitar, Wurlitzer, Mellotron).

Since their 2015 debut, Flatland Cavalry has released two EPs and three full-length studio albums, including 2021's Welcome to Countryland. Of the record, The Wall Street Journal praised, "a clear musical point of view, original melodies, mature confidence in portraying romantic matters, and increasingly fresh, distinctive lyrics…a straightforward, upbeat electrified country-rock band," while Rolling Stone declared, "Flatland Cavalry are promising to make days a little brighter wherever they go." With the release, the band earned two #1 singles at Texas Country Radio ("Gettin' By" and "A Cowboy Knows How") and garnered over 290 million streams to date across platforms. Additionally, their track, "Mountain Song," was also recently featured in the hit television series, "Yellowstone." Known for their electric live performances, the band has toured relentlessly these past several years including numerous sold-out headline dates as well as shows with Willie Nelson, Luke Combs, Lainey Wilson, Jordan Davis, Midland and more.

For more information, please contact Asha Goodman, Catherine Snead 615.320.7753 or Carla Sacks 212.741.1000 at Sacks & Co.
WANDERING STAR TRACK LIST
1. The Provider
2. The Best Days
3. Only Thing At All
4. Last American Summer
5. Mornings With You (feat. Kaitlin Butts)
6. Let It Roll
7. Spinnin'
8. Don't Have To Do This Like That
9. New American Dream
10. Oughta See You (The Way I Do)
11. A Thousand Miles An Hour
12. Burned Out Flame
13. Forgotten

FLATLAND CAVALRY CONFIRMED TOUR DATES
September 29 /// Corpus Christi, TX /// Brewster Street Ice House
September 30 /// Pasadena, TX /// Pasadena Livestock Show
October 5 /// Bakersfield, CA /// The Historic Bakersfield Fox Theater
October 6 /// Monterey, CA /// Rebels and Renegades Music Festival
October 7 /// Stateline, NV /// Harrah's Lake Tahoe
October 8 /// Paradise, CA /// Paradise Performing Arts Center
October 11 /// Flagstaff, AZ /// Orpheum Theater
October 12 /// Tucson, AZ /// Rialto Theatre
October 13 /// San Diego, CA /// Cal Coast
Credit Union Open Air Theatre*
October 14 /// Los Angeles, CA /// YouTube Theater*
October 19 /// Austin, TX /// Moody Theater
October 20 /// Fort Smith, AR /// Temple Live
October 21 /// College Station, TX /// Live at the Station Festival
October 28 /// Gonzales, LA /// Lamar Dixon Expo Center
November 10 /// Norman, OK /// Riverwind Casino
November 11 /// Mission, TX /// Las Palmas Race Park
December 15 /// Fort Worth, TX /// Billy Bob's
December 16 /// Fort Worth, TX /// Billy Bob's
February 7, 2024 /// Athens, GA /// Georgia Theatre
February 8, 2024 /// Athens, GA /// Georgia Theatre
February 10, 2024 /// Nashville, TN /// Ryman Auditorium
February 15, 2024 /// New York, NY /// Irving Plaza
April 1-5, 2024 /// Miami, FL /// The Last Resort Cruise

*supporting Parker McCollum


www.flatlandcavalry.com