PRESS RELEASES
June 23, 2023 / VIEW
May 12, 2023 / VIEW


photo credit: Alun Be / click for hi-res version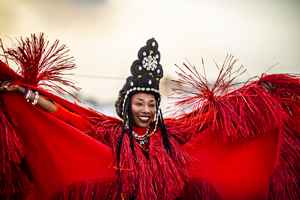 photo credit: Alun Be / click for hi-res version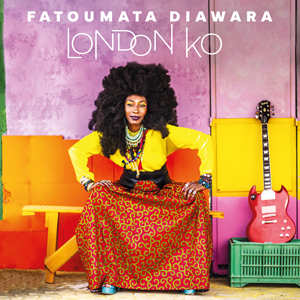 album artwork / click for hi-res version
GRAMMY NOMINATED MALIAN ARTIST FATOUMATA DIAWARA UNVEILS SOLOMUN REMIX OF "NSERA" FEATURING DAMON ALBARN + ACCOMPANYING VIDEO

FEATURED ON NSERA EP, OUT NOW

NEW ALBUM LONDON KO OUT NOW TO CRITICAL ACCLAIM
"Rich, textured guitars complement her native Bambara vocals and bring a contemporary feel to her traditional Malian sound."—NPR Music

"There's sorrow, longing, worry, sympathy and determination in Ms. Diawara's voice."—The New York Times

"Fatoumata Diawara has verve to spare, and a dynamic voice whose partial cloudiness is fundamental to its appeal."—The Guardian

June 23, 2023—Grammy-nominated Malian singer, songwriter, guitarist and actress Fatoumata Diawara is sharing a remix of the track "Nsera" (feat. Damon Albarn) by acclaimed German producer Solomun with an accompanying video; listen HERE and watch/share the Juan Gòmez de Mello-directed video HERE. The remix has already been tested and approved by thousands of festival-goers during Solomun's recent DJ sets and is now available as a recording for the first time.

The Solomun Remix hails from the Nsera EP, which includes the original track alongside a radio edit and extended edit of the remix. Of the original version of the single, Stereogum raves, "The song's syncopated, synth-powered groove and bright, joyous melody will probably appeal to fans of LCD Soundsystem, Ibibio Sound Machine, and even bands with names that don't fit that general pattern." okayafrica. notes that "Albarn sings and plays keyboards on the track in a way that adds serenity and melancholy to the song's ambiance," while WNYC "Soundcheck" adds "the song is a dancey anthem that celebrates the diversity of cultures in West Africa–a diversity that has produced conflict but which Diawara sees as a source of strength."

The original track also appears on Diawara's new full-length album London Ko, which is out now. Purchase/stream the album HERE. With the new album, Diawara continues to reinvent traditional African music, combining her Mandinka roots with afrobeat, jazz, pop, electronic and hip hop influences. That synthesis is reflected even in the album's title, combining the names of the Western metropolis of London with that of the Malian capital of Bamako.

Critical praise for London Ko:

"There's a nice contrast between the vocals and the beat…a nice summery vibe." —NPR Music "All Songs Considered"

"Fatoumata Diawara, from Mali, rides a galloping six-beat modal groove topped by the Cuban pianist Roberto Fonseca in 'Blues,' which is by far the rawest song on her new album of international fusions, London Ko."—The New York Times

"[Fatoumata Diawara is] the perfect collaborator for fellow chameleon Damon Albarn, who has co-produced Diawara's forthcoming album London Ko."—Paste

"On her strongest album yet, London Ko, Fatoumata Diawara demonstrates how music from today's African diaspora can be 'Everything Everywhere All at Once.'"—PopMatters "A majestic record…it's a stunning feat of musicality."—okayafrica.

"Her songs tend to begin with the rhythms of the Mandinka people of Mali before piling on the Western pop, rock and jazz influences."—WNYC "Soundcheck"

Diawara notes of the album, "For me, London Ko means opening your mind. It also represents Damon Albarn's connection to Malian music." London Ko, a neologism coined by Diawara, represents an imagined continent bringing Europe and Africa together. While holding on to traditions, Diawara's music gives a prophetic vision of what Africa can do. She invents an alternative space and time where it is possible to become master of your own destiny. Positioning herself as an actor in a future world, this album raises Diawara into the ranks of the great voices of Afrofuturism.

Diawara is on tour throughout the summer, with stops featuring a number of major European festivals including the Copenhagen Jazz Festival, Istambul Jazz Festival, Sommer Open-Air-Musikfestival and more. See below for the full routing.

Diawara broke out in 2011 with her debut album, Fatou, which featured guest performances from legendary musicians John Paul Jones, Tony Allen and Toumani Diabaté. The record was hailed by Pitchfork as a "beguiling album" that "simply surrounds you with its atmosphere," while The Guardian praised it as "an enjoyable, impressive set." She received two nominations at the 61st Annual Grammy Awards for Best World Music Album for her 2018 album Fenfo and Best Dance Recording for "Ultimatum" in which she was featured with the English artist Disclosure.

One of 11 children born to Malian parents in Ivory Coast, Diawara grew up in the '90s in the Malian capital of Bamako. A celebrated child actor, Diawara starred in Dani Kouyaté's critically acclaimed 2001 film Sia, The Dream of the Python. At age 19 she left home against the wishes of her family and joined the French street theater company Royale de Luxe, with whom she toured the world and began singing in the clubs and cafes of Paris. Diawara eventually found herself singing backing vocals for Dee Dee Bridgewater and Malian superstar Oumou Sangaré before signing with influential label World Circuit Records for her debut album. In addition to Sia…, Diawara's film credits include the Academy Award-nominated Timbuktu, Morbayassa and Clouds of Conakry, as well as the documentaries The Africa Express and Mali Blues.  

For more information, please contact Joe Cohen, Samantha Tillman or Carla Sacks at Sacks & Co., 212.741.1000.
TRACK LIST
NSERA EP
1. Nsera (Solomun Remix Edit)
2. Nsera (Solomun Remix Extended)
3. Nsera

TRACK LIST
LONDON KO
1. Nsera (feat. Damon Albarn)
2. Somaw (feat. Angie Stone)
3. Sete
4. Seguen
5. Massa Den (feat. -M-)
6. Mogokan (feat. M.anifest)
7. Blues (feat. Roberto Fonseca)
8. Moussoya
9. Netara (feat. Roberto Fonseca)
10. Yada
11. Tolon (feat. Yemi Alade)
12. Dambe
13. Dakan
14. Maya

FATOUMATA DIAWARA LIVE
June 23 /// Périgny, FR /// Festival Notes En Vert
June 24 /// Fontainebleau, FR /// Festival Django Reinhardt
June 25 /// Montauban, FR /// Montauban en Scènes
June 29 /// Belfort, FR /// Les Eurockéennes
June 30 /// Nort-sur-Erdre, FR /// Festival La Nuit de l'Erdre
July 1 /// Puteaux, FR /// Parvis de la Defense
July 2 /// Autrans, FR /// Vercors Music Festival
July 5 /// Copenhagen, DK /// Copenhagen Jazz Festival
July 7 /// Brussels, BE /// Saule @ La Semo
July 8 /// St-Clair, FR /// Festival Beauregard Hérouville
July 9 /// Saint-Malô-du-Bois, FR /// Poupet Festival
July 13 /// Ravenna, IT /// Palazzo San Giacomo Russi
July 15 /// Cartagena, ESP /// Festival La Mar de Músicas
July 17 /// Istanbul, TUR /// Istanbul Jazz Festival
July 19 /// Juan-les-Pins, FR /// Jazz à Juan
July 22 /// Mèze, FR /// Festival de Thau
July 25 /// Berlin, DE /// Sommer Open-Air-Musikfestival
July 26 /// Jena, DE /// Kulturarena
July 27 /// Herzberg, DE /// Herzberg Festival
July 28 /// Karlsruhe, DE /// Zeltival Tolhaus
July 30 /// Marciac, FR /// Jazz in Marciac
August 5 /// Vertheuil, FR /// SunSka Festival
August 11 /// Locorotondo, IT /// Locus Festival
September 6 /// Venice, IT /// Piazzale Divisione Acqui
September 7 /// Ferrara, IT /// Ferrara Sotto le Stelle
September 27 /// Atlanta, GA /// City Winery
September 29 /// Washington, D.C. /// Music Center at Strathmore
September 30 /// Princeton, NJ /// McCarter Theater Center
November 17 /// Geneva, CH /// Festival Les Créatives
November 19 /// Rome, IT /// Romaeuropa Festival
November 20 /// Florence, IT /// H/Earthbeat Festival
November 22 /// Barcelona, ES /// Cruilla de Tardor
November 29 /// Sarreguemines, FR /// Saison Culturelle
November 30 /// Luxembourg, LUX /// Den Atelier
December 1 /// Anvers, BE /// Festival WinterFuse
December 7 /// St. Polten, AT /// Festspielhaus
December 14 /// Tulle, FR /// L'Empreinte Brive

BOLD-sold out

https://fatoumatadiawara.com/en/