PRESS RELEASES
July 28, 2023 / VIEW
July 21, 2023 / VIEW
June 21, 2023 / VIEW
May 22, 2023 / VIEW
April 18, 2023 / VIEW


photo credit: Jane Stuart / click for hi-res version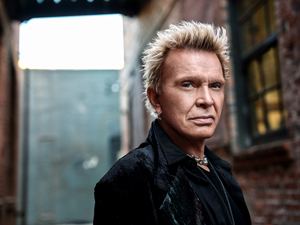 photo credit: Steven Sebring / click for hi-res version
BILLY IDOL'S EXPANDED REISSUE OF SELF-TITLED DEBUT ALBUM OUT NOW VIA CAPITOL/UME

FEATURING UNRELEASED 1982 CONCERT AT THE ROXY + RECENTLY UNEARTHED EXTENDED CLUBLAND REMIX OF "WHITE WEDDING"

TO RELEASE STATE LINE CONCERT FILM THIS FALL SHOWCASING HOOVER DAM PERFORMANCE
July 28, 2023— Today, rock legend Billy Idol releases the expanded edition of his self-titled debut album via Capitol/UMe. The reissue includes the original ten track album, a previously unreleased recording of Idol's complete August 12, 1982 concert at The Roxy in West Hollywood, CA and the recently unearthed and previously unreleased 12-minute Clubland Extended Remix of his classic song "White Wedding." Fans can purchase the deluxe reissue HERE and watch/share an official video for the Clubland Extended Remix of "White Wedding" HERE.

Fans are also encouraged to celebrate the release of this iconic album with a Dolby Atmos®️ aural upgrade by GRAMMY®️-winning engineer Paul Hicks who has remixed albums in Atmos®️ for The Beatles, The Rolling Stones, George Harrison and more.

Additionally, Idol is slated to release a concert film this fall showcasing his April performance at Hoover Dam. Produced by Lastman Media for Vertigo Live docu-concert films, Billy Idol: State Line will premiere in theatres this fall with further details on public screenings to be announced soon.

Idol performed two unique sets of his iconic hits on site at Hoover Dam, which straddles the Colorado River directly on the Nevada/Arizona state line: a full band concert at sunset with special guests that electrified and illuminated the surrounding Black Canyon and an acoustic duo set on the roof of the powerhouse directly at the foot of Hoover Dam.

For both sets, Idol was joined by his collaborator and lead guitarist of over forty years, Steve Stevens. Performed in front of only 250 fans, the electric set featured special guests Alison Mosshart (The Kills, The Dead Weather), Steve Jones (Sex Pistols, Generation Sex) and Tony Kanal (No Doubt). Watch/share the film's first teaser HERE.

Idol will continue to take his lauded live show on the road this summer with a select run of headline tour dates. The tour includes a debut performance at New York City's Kings Theatre, D.C.'s The Anthem, and Boston's MGM Music Hall, as well as an appearance at Jazz Aspen Snowmass with the Foo Fighters. See below for the full routing.

For 46 years, Billy Idol has been one of the faces and voices of rock'n'roll. Between 1977 and 1981, Idol released three albums with Generation X as their camera-ready frontman. In 1982, he embarked on a transatlantic/trans-genre solo career that integrated the bold and simple lines of punk and rock'n'roll decadence. Last year, Idol released his latest project, The Cage EP, via Dark Horse Records. The new music follows Idol's 2021 The Roadside EP, which received praise from fans and critics alike. In January, Idol was honored with the first Hollywood Walk of Fame Star of 2023. The ceremony included guest speakers Henry Rollins and Shepard Fairey.

For more information, please contact Carla Sacks or Louis D'Adamio at Sacks & Co., 212.741.1000.

BILLY IDOL (EXPANDED EDITION) TRACKLIST

DISC 1—BILLY IDOL
1. Come On, Come On
2. White Wedding (Part 1)
3. Hot In The City
4. Dead On Arrival
5. Nobody's Business
6. Love Calling
7. Hole In The Wall
8. Shooting Stars
9. It's So Cruel
10. Congo Man
11. White Wedding (Clubland Extended Remix) [Previously Unreleased]

DISC 2—LIVE FROM THE ROXY, 1982 (PREVIOUSLY UNRELEASED)
1. Baby Talk
2. Untouchables
3. Come On, Come On
4. Hot In the City
5. Dead On Arrival
6. Heavens Inside
7. Ready Steady Go
8. Hole In The Wall
9. Shooting Stars
10. Kiss Me Deadly
11. White Wedding
12. Nobody's Business
13. Dancing With Myself
14. Mony Mony
15. Triumph

BILLY IDOL LIVE 2023
August 27 /// Vancouver, BC /// PNE Amphitheatre
August 28 /// Spokane, WA /// Spokane Pavilion
August 31 /// Bonner, MT /// Kettlehouse Amphitheater
September 2 /// Loveland, CO /// Budweiser Events Center
September 3 /// Aspen, CO /// Jazz Aspen Snowmass *
September 8 /// Washington, DC /// The Anthem
September 9 /// Boston, MA /// MGM Music Hall
September 12 /// Brooklyn, NY /// Kings Theatre
September 16 /// Camden, NJ /// WMMRBBQ
September 17 /// Washington, DC /// The Atlantis
October 20, 21, 25, 27 & 28 /// Las Vegas, NV /// The Cosmopolitan

* w/ Foo Fighters

BILLYIDOL.NET