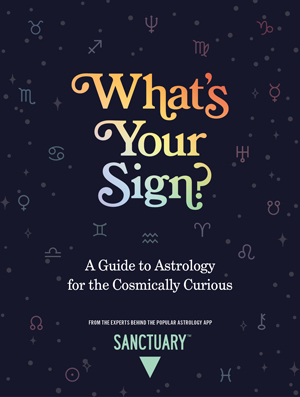 click for hi-res version

click for hi-res version

click for hi-res version
FIRST EVER BOOK FROM LEADING ASTROLOGY PLATFORM SANCTUARY OUT TODAY

WHAT'S YOUR SIGN?: A GUIDE TO ASTROLOGY FOR THE COSMICALLY CURIOUS AVAILABLE NOW
Today, leading mystical services provider and astrology app Sanctuary's highly anticipated book—What's Your Sign?: A Guide To Astrology for the Cosmically Curious—is officially released everywhere. More info/purchase HERE.

What's Your Sign brings Sanctuary instantly recognizable visual style to life in physical form, guiding everyone from the beginner to the seasoned astrology enthusiast through the signs and planets, houses, and basics of astrology. The book features a host of immersive content including step-by-step guides, illustrations and in-depth explanations, giving readers the necessary tools to become experts of their own cosmic journeys.

"We're thrilled to be releasing our first ever book," says Sanctuary CEO and Co-Founder Ross Clark, "We've tried to bring all the wit and whimsy our Instagram followers and app users expect from us to the page and we can't wait for our community to get their hands on it."

"Everyone from the most advanced astrology lover to those just starting to dabble will be able to find guidance and knowledge with this book. We're so excited to share it with the world!" says Sanctuary's Creative Director Haley Houseman. Sanctuary is on a mission to make alternative spirituality accessible so people can find clarity wherever or whenever questions find them. Having just raised a $3M seed round, Sanctuary is looking to take the $2.2B+ mystical services market into the digital age.

The app offers users free daily horoscopes including both sun and rising signs, access to their personal profile and summaries of their birth chart's planets and signs. With the option to pay for one-on-one text-based readings with professional astrologers, tarot readers and psychics, Sanctuary has reinvented the traditional reading while maintaining the personal one on one experience. These personalized astrology readings use your unique astrological birth chart to look at your past, present and future. In the same way, personal psychic readings use the power of intuition and your own energy to provide insights, while tarot readings use a mystical deck of cards to examine your challenges and path through life. All readings are available in increments that start at 10 minutes in length and go up to 60 minutes—offering everything from bite size insights about pressing questions to a full exploration of what's in store for you.

Sanctuary's social media following continues to climb, with more than 1.3 million followers on Instagram, including Ariana Grande, Diplo, Adam Lambert, India Arie, Rosario Dawson and more amongst its fans; follow on Instagram HERE. The growing alternative spirituality app has partnered with Snapchat, providing horoscopes for their "Happening Now" feature, as well as Spotify for their "Horoscope Today" podcast. Download HERE.

Sanctuary has been featured in New York Magazine's The Cut, The New York Times, the Los Angeles Times, Bloomberg, Wired, Refinery29, SELF. Sanctuary's investors include BITKRAFT Ventures, KEC Ventures, Greycroft, Azure Capital Partners, Advancit Capital, Gaingels and Uncommon Denominator.

For more information, please contact Samantha Tillman, Reid Kutrow, Kate Rakvic or Carla Sacks at Sacks & Co., 212.741.1000.