PRESS RELEASES
May 26, 2023 / VIEW
April 4, 2023 / VIEW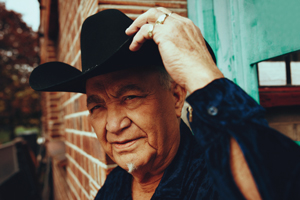 photo credit: Massi Giorgeschi / click for hi-res version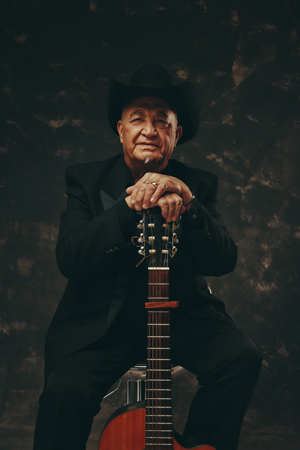 Photo credit: Massi Giorgeschi / click for hi-res version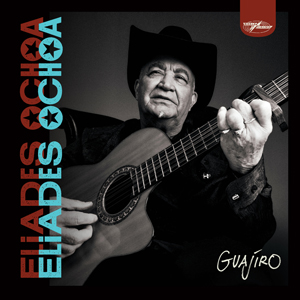 album artwork / click for hi-res version


GUAJIRO, NEW RECORD FROM
FOUNDING BUENA VISTA SOCIAL CLUB
MEMBER ELIADES OCHOA, OUT NOW ON WORLD CIRCUIT RECORDS

FEATURING JOAN AS POLICE WOMAN,
CHARLIE MUSSELWHITE

NEW SINGLE "PAJARITO VOLÓ" FEATURING RUBÉN BLADES DEBUTS TODAY WITH OFFICIAL VIDEO

WEST COAST U.S. TOUR DATES THIS SUMMER
May 26, 2023—Eliades Ochoa, the legendary Cuban guitarist and singer and original member of Buena Vista Social Club, releases his new album Guajiro today via World Circuit on CD and digital formats. The LP vinyl format will follow on June 9. Produced by Demetrio Muñiz and featuring guests Rubén Blades, Joan As Police Woman and Charlie Musselwhite, Guajiro cements his reputation as one of the most vital artists to come out of Cuba in the last century. Stream/purchase the new record HERE.

The album release coincides with a brand new single penned by Ochoa, "Pajarito Voló" (translating as "Little Bird Flew"), which features guest vocals from award-winning Panamanian superstar singer, musician and activist Rubén Blades. The single is accompanied by a new video, telling the second chapter of a two-part love story, focusing on a woman who escapes the confines of her relationship to fly to a life of new-found freedom. Watch/share the video HERE.

Of the new single, Eliades comments, "When I talk about Rubén Blades, I feel close to him. I am an admirer of his work and I identify with him because we both started as village musicians. He has a genuine sense of rhythm and reinvents himself over the years without losing his musical essence. I am very proud of this collaboration in which we open the cage together so that the little bird can fly free."

Rubén Blades adds, "It is an honor for me to have been invited by Eliades Ochoa to participate in his project. I admire, respect and have great affection for him, as a person and as a colleague, and for this reason this recording is special to me. Eliades gave me a "tres Cubano" a while ago, one of my most beloved instruments. Thank you Maestro Eliades, for your talent, honesty and friendship, and may the successes continue!"

The album release follows recent singles "Creo En La Naturaleza," written by Eliades himself and featuring American singer-songwriter and multi-instrumentalist Joan As Police Woman, and the classic Puerto Rican plena "Se Soltó Un Leon," the video for which tells part one of the two-part love story, centering on a man who isn't ready to commit. Watch/share the "Se Soltó Un Leon" video HERE.

Ochoa will tour in support of Guajiro throughout 2023, including an appearance this weekend at Manchester Jazz Festival and a headline performance at London's Koko on October 29. See below for a full list of dates.

With the rugged features, signature hat, cowboy boots and iconic "man in black" image—as well as the songs from the school of life imbued with the sort of hard-earned, country-tinged wisdom that can't be bought—one doesn't have to look or listen too hard to understand why Eliades Ochoa is often called "Cuba's Johnny Cash." Yet if parallels abound, his new album Guajiro also shows him to be a singular voice with his own unique style and sound, rooted deep in Cuban tradition but with an appeal that is as timeless as it is universal.

Back in 1997 when he shot to international recognition as a member of the Grammy-winning Buena Vista Social Club, Ochoa was the young gun. True, he was by then in his 50th year and had already been heading up Cuba's leading band Cuarteto Patria for 18 years, but he was still in the flush of youth compared to legendary veterans Compay Segundo and Ibrahim Ferrer, who had been playing since before he was born and with whom he duetted unforgettably on classic songs such as "Chan Chan" and "Candela."

A quarter of a century later, Ochoa is now the veteran with a legendary back story of his own. The songs on Guajiro—most of which are his own compositions—are the most intimate and personal Ochoa has ever recorded. "The album tells a lot about me and my history," he says. "It's really the story of my life and each song has a lot of meaning."

In making Guajiro he called upon an array of sympathetic collaborators. Producer Demetrio Muñiz represents a direct link to Buena Vista, having acted for many years as the musical director of the touring band that spun off from the original project. But others are drawn from far beyond the shores of Cuban music, including the Mississippi blues harmonica player Charlie Musselwhite, Fania All-Stars legend Rubén Blades and indie-rock auteur Joan Wasser, who records as Joan As Police Woman. "It's different from the albums I've done before, taking me outside my comfort zone," Ochoa notes. "I've been playing traditional son cubano for many years and at this point in my life I wanted to do something a little different. And I've always loved collaborating and being open to other rhythms and working with different artists."

With the release of Guajiro, Ochoa adds a new and revealing chapter that weaves together all the threads and strands of his storied life and career into a definitive and compelling personal testament that honors his past while ambitiously taking his music into new pastures.

For more information, please contact Krista Williams, Joe Cohen or Carla Sacks at Sacks & Co., 212.741.1000.
GUAJIRO TRACKLIST
1. Vamos a Alegrar el Mundo
2. Soy Guajiro
3. Creo en la Naturaleza (feat. Joan As Police Woman)
4. Pajarito Voló (feat. Rubén Blades)
5. Ando Buscando una Novia
6. Abrazo de Luz
7. Anita Tun Tun Tun
8. Canto Para Ti Guajira
9. Se Soltó Un León
10. West (feat. Charlie Musselwhite)
11. Los Ejes de Mi Carreta

TOUR DATES
April 30 /// Cheltenham, UK /// Cheltenham Jazz Festival (SOLD OUT)
May 4 /// Ibiza, ES /// SDL Festival
May 13 /// Coutances, FR /// Festival Jazz Sous Les Pommiers
May 17 /// Sion, CH /// PALP Festival
May 28 /// Manchester, UK /// Manchester Jazz Festival
May 31 /// Paris, FR /// Le Trianon
June 2 /// Bergen, NO /// Natjazz
June 16 /// Chiasso, CH /// Festate
June 20 /// Bloemendaal, NL /// Caprera
June 23 /// Essaouria, MA /// Essaouira Festival
July 2 /// Malaga, ES /// Teatro Cervantes
July 6 /// Rudolstadt, DE /// Rudolstadt Festival
July 13 /// Pisa, IT /// MusicaStrada Festival
July 15 /// Pesaro, IT /// Lonely Planet UlisseFest
July 22 /// Chanac, FR /// Festival Détours du Monde
July 25 /// Riga, LV /// Green Theatre Mezaparks
July 29 /// Sète, FR /// Fiest'A Sète
August 10 /// Segovia, ES /// Noches Magicas de La Granja
August 16 /// Santa Cruz, CA /// Kuumbwa Jazz
August 17 /// Berkeley, CA /// Freight & Salvage
August 19 /// Los Angeles, CA /// Music Center
August 20 /// San Diego, CA /// Epstein Family Amphitheater
October 29 /// London, UK /// Koko

worldcircuit.co.uk
eliadesochoaofficial.com