PRESS RELEASES
August 15, 2023 / VIEW
March 2, 2023 / VIEW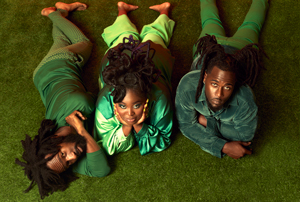 photo credit: Jeremy Tauriac / click for hi-res version

photo credit: Jeremy Tauriac / click for hi-res version

photo credit: Jeremy Tauriac / click for hi-res version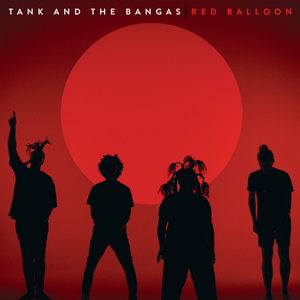 click for hi-res version

Click Here for Red Balloon Quote Sheet
TANK AND THE BANGAS

RED BALLOON

Tank and the Bangas formed in the early 2010s, when vocalist and poet Tarriona "Tank" Ball (frontwoman, lead vocals) met musicians Norman Spence (keys) and Joshua Johnson (drums) at the New Orleans open-mic night Liberation Lounge; Albert Allenback (alto saxophone, flute) came on later, firming the band's core lineup. "We met in 2010," says Norman. "Around 2011 we got a little more serious, and then by 2012 it was official. And we've been going."

They grinded for years in their hometown, playing local venues like Gasa Gasa and The Blue Nile while also lighting up the New Orleans Jazz & Heritage Festival with their explosive live sets. One local critic called them "untraditional, yet absolutely adherent to the New Orleans heritage of experimentation and invention that pulses through the veins of the city's music" in 2016.

Then came the 2017 Tiny Desk Contest, a nationwide talent competition inspired by the Tiny Desk Concerts beamed out of NPR's offices in Washington, D.C. Tank & the Bangas' entry, an intimate rendition of their song "Quick," delighted the judges, and they beat out more than 6,000 other bands to take that year's title. Their win brought their blend of poetry, R&B, gospel, pop, and whatever else struck their collective fancy to a worldwide stage.

In the past five years, Tank & the Bangas have become widely beloved for their lauded live shows and kitchen-sink approach to making music. They were a Best New Artist nominee at the 2020 Grammys and toured the world extensively, playing major U.S. festivals like Coachella and Bonnaroo. "We've managed to expand our Tiny Desk moment into a lifetime of amazingness," says Tank.

Red Balloon, Tank & the Bangas' third studio album and second major-label release, came out of something rare for the band: a pandemic-ordered break from their rigorous touring schedule. That gave the individual members space to breathe and double down on who they were as artists, and it allowed them to reunite as a more unified group. "We needed a time to be away from the road so that we could cultivate something new, and cultivate who we were," says Tank. The result is a marvelous modern soul album, one led by Tank's commanding vocal presence but also firmly rooted in the musical chemistry conjured by the band being back in the studio and letting the vibes flow.

While guests like Wayne Brady, ?uestlove, Jacob Collier, Lalah Hathaway, Trombone Shorty, and Alex Isley add dimensions to Red Balloon. "This has been one of the best attempts thus far at capturing what happens when we're all playing at the same time," says Albert. Its lyrics run the gamut of human experience, taking on the ills of America while also celebrating the beauty of Black life, reveling in sensuality while also talking frankly of heartbreak. Or, as Norman puts it, "Red Balloon is coming straight for your heart and your neck at the same time."

Tank & The Bangas have been hailed as one of the "best live bands in America" by NPR Music, and with Red Balloon they build on their rapidly growing legacy in exciting ways. "That's the dope thing," says Norman. "We get to keep on going and riding the wave—and whatever vibe we're feeling, we get to go and create it. Man, it's a blessing."

WHEN DID THIS RECORD START COMING TOGETHER?

TANK: We started getting everything together in early 2020. The song that kind of got the ball moving, at least it felt to me, was "Mr. Bluebell." I was sitting on the porch by my aunt's house, and I was thinking about the world and what type of place we were in. And I think they had just kind of stormed the Capitol around this time. And I just sat on the porch, and it got me writing.

THAT SONG HAS THE LINE "DESENSITIZED IS THE NEW WAVE," WHICH IS IRONIC BECAUSE THE RECORD IS VERY MUCH ABOUT FEELING. CAN YOU SPEAK TO THAT LYRIC?

TANK: Oh yeah. It's really cool for people to try to downplay feelings a lot. "Oh, you're in your feelings." "Oh, you're in your heart." "You need to get out of your feelings." It's kind of crazy that people expect people not to have feelings or think they're weak for being in their feelings. But seeing all these deaths, and seeing all these killings, you see them, and you go, "What??"—and then you scroll, and you get over it. That's definitely the new wave. I don't know if people are realizing it. I don't know if they're internalizing it. I don't know if they even see that it's not cool to have feelings about something.

THE FRAMING OF THE RECORD MAKES IT FEEL VERY LIKE IT HAS LIKE A VERY STRONG SENSE OF PLACE IN NEW ORLEANS.

TANK: If Red Balloon feels any type of New Orleans-y way, it was not on purpose. For the most part, we really were letting the music take us wherever it wants to go. A lot of the songs sound very Stevie Wonder-inspired or Earth, Wind and Fire-inspired, but they came from all of us jamming together and putting all that on wax. And then what happened was, "Oh my God, look at us, sounding like a band—look at all this music coming together!" That's where it took us, but it wasn't purposeful. It was very organic. We worked with different producers, and each song is what was created in that specific room at that specific time. It was really, really special.

YOU TOOK A BREAK WITH THE PANDEMIC. HOW DID COMING BACK FROM THAT BREAK, THEN WRITING AND CREATING AS A BAND, FEEL?

TANK: We were touring so much and so constantly, and we weren't really the type of band where after playing a long gig, we'd say, "Come to my room and let's make a song." It was time to go to sleep! So we needed a time to be away from the road so that we could cultivate something new, and cultivate who we were.

HAVE YOU PLAYED ANY OF THE SONGS FROM RED BALLOON LIVE YET?

TANK: We did just to try it out, which is something we haven't done in a long time. Normally, we like to keep music to ourselves. But there's something really exciting about seeing how your fans react to your songs that aren't out yet. We performed "Big" on the Friend Goals tour and people acted like they knew it already. It was amazing to see.

HOW DID YOU DECIDE TO BRING IN GUESTS, LIKE ALEX ISLEY OR TROMBONE SHORTY?

NORMAN: We'd just throw ideas out there about what we liked, what we thought would be cool. Some of them were reaches—and then some of the reaches actually came through.

TANK: Nobody but Trombone Shorty could be on "Café du Monde." It was such a joy and honor—I called him, and he came over that night. And Jamison Ross, out of nowhere, wanted to really get on the solo for it. Jamison just is… oh, my goodness. His voice is like a velvet couch.

NORMAN: Butter on a biscuit.

TANK: Alex Isley, who's on "Black Folk," happens to be the niece of The Isley Brothers. Her voice is just beautiful. This is our second time working with her. It's always a pleasure. She's perfect. She lived in California already. There's this moment in the song when we say, "Everybody from the 504/ whatchu you think I came to LA for?" My answer to that line was, "I came out here for Alex Isley. I came out here because we had to capture this specific vibe in this specific place. I ain't moving to no damn California, but I came out here for these particular artists." And Masego, I never would've thought to add that type of flavor to the music. What he added to it was so beautiful. Georgia Anne Muldrow, Norm is a huge fan. So we know we had to get her on "Why Try"—although nobody will know she was on there because she's doing percussion sounds with her mouth. But just that is enough to make it quite lovely.

NORMAN: She's on the synth on there too.

ALBERT: Jacob Collier was the dream. I mean, I would watch Jacob Collier do Stevie Wonder re-harms in college and be like, "This is the craziest stuff ever." Then he got on our stuff, and it's just amazing. Amazing. That was a dream come true.

WHAT DOES RED BALLOON REPRESENT TO TANK & THE BANGAS?

TANK: We love music. It's timeless. It's that song that you're going to put on because it was good music, the same way that you're going to put on the old Donny Hathaway, or you going to put on a Stevie Wonder record, or you feel like hearing Mary J Blige. It's something that you're going to listen to a lot, and it won't go out with the times. It will stay true to itself.

NORMAN: Red Balloon is coming straight for your heart and your neck at the same time. It's going to make you bop and think and love, hopefully, and even love people that look different.

ALBERT: I think this is the closest we've come to representing us playing together as a band on a record. This has been one of the best attempts thus far at capturing what happens when we're all playing at the same time. We talked about this so much over the course of the pandemic, about how we wanted to record, what we wanted to catch. We had so many different conversations about like how to capture that "thing." When you end up listening to the masters and you're like, "Oh man, we kept a lot of that in there." That's really, really, really an accomplishment for us to be proud of, because we are such this amazing force live and where we've been like more unsure is in the studio.

NORMAN: You can hear production growth and the maturity of the sound. It's like, "All right, man. This is really growing up."

TANK: It feels like a grown people moment, which is so important for our fans. Because we're growing—and it's best when your fans grow with you.

NORMAN: We are not coming from a place of trying to be anything else; we go in and we are ourselves. This whole thing, this is what we're feeling at this time, this is what we're feeling here.

TANK: And I can't guarantee at all that the next album will sound like this. This is literally our specific vibe at this specific time.

NORMAN: That's the dope thing—we get to keep on going and riding the wave. Whatever vibe we're feeling, we get to go and create that vibe. And man, it's a blessing.

For more information, please contact Samantha Tillman,
Kendall Abelman or Carla Sacks at Sacks & Co., 212.741.1000.